There's been some discussion of La Palma and the Canary Islands before, but I thought it may be worthwhile discussing what kind of cataclysmic situation we may be looking at right now with the activity we're seeing on the volcano at La Palma.
Some folks may have noticed some of the live feeds on YouTube. Last night it was really incredible watching a live feed that really showed remarkable levels of lava spewing. Several times while having the feed up there were audible explosions and the camera rocked and shook from obvious severe activity.
Today they're saying the houses around have burnt or are burning. I've seen several live videos that show the homes burning up. The dogs barking in the distance are worrisome because clearly people and pets are still around this incredible dangerzone. We're talking about tens if not hundreds of millions of people being in
Let's just catch our bearings as to where La Palma is and how it is oriented on the globe:

Earthquakes:

I think it merits some exploration of just what can happen if the western side of La Palma collapses into the ocean:

Source:
YouTube - La Palma Mega Tsunami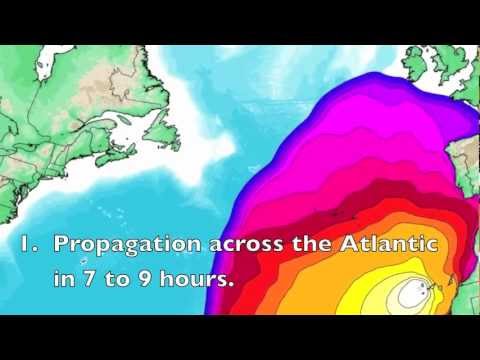 This is pretty impressive - and terrifying.
As you can see, there's not much time for evacuation for anyone within harms way, max seems to really be about 7 (maybe 8) hours for those on the East Coast of the USA:

There are a LOT of varying predictions about how catastrophic this could be. The minimal amount of damage on the East Coast (being roughly the least destructive in a large population zone) is around 100 feet of water (30 meters), but it could easily be a MUCH larger tsunami reaching into the hundreds of feet.
At a minimum of 30 meters, just look at the flood map projects for the East Coast of the USA:

Boston:

New York:

Baltimore & Washington DC:

Beach cities obliterated:

Bye bye Florida:

Just go on down to South America:

It seems like Spain, France and the UK might fare a bit better due to the higher cliffs and perhaps lower population cities on the ocean front.